3 Reasons to Consider Professional Kitchen Faucet Repair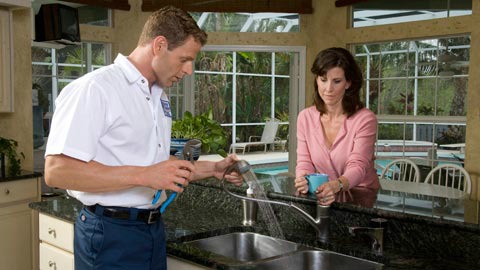 Homeowners have numerous expenses that interfere with a household budget. Saving money whenever possible is always a plus, but sometimes it comes at a higher cost that isn't understood right away. If you're on the fence about hiring a licensed plumber for kitchen faucet repair in Spring Valley, consider the following reasons to consider hiring a professional.
Fix a Leaky Faucet Fast
Can you fix a leaky faucet by yourself? You probably can. There are plenty of how-to videos available on the Internet that glorify the DIY syndrome. If you're handy and have the right tools, you can make these repairs quickly and move on with your day. Unfortunately, most people don't have the skills or tools to make repairs fast and end up spending time all day grappling with a broken faucet. Your neighborhood Spring Valley plumber has the expertise and practice to fix that leaky faucet in no time at all, so you can get on with your day.
Protect Your Home from Water Damage
A big mistake that homeowners make when performing DIY kitchen faucet repair is that they underestimate how much water damage can come from forgetting to turn the water off while making a repair. Or, they make the repair without realizing that they didn't tighten something correctly and a leak ensues. Licensed plumbers guarantee their labor and the quality of the workmanship. You'll never have to worry about water damage.
Save Money on Your Water Bill
Think you can live with a leaky faucet? Think again. While you may be able to ignore the incessant dripping, can you ignore the high-priced water bill? Leaky faucets can waste as much as 200 gallons in an hour depending on the drip rate. That's why it's important to repair that kitchen faucet as soon as possible.
For affordable, top-rated kitchen faucet repair in Spring Valley, call Spring Valley Plumbing and Drain. We offer 24/7 plumbing service with 90 minute or less response time. Whether you need kitchen faucet repair or replacement, we have solutions that will fit everyone's budget.